October to December 2014 Testimonies
Testimony of Mr. Luis Alonso Diaz Garcia, Leader of the CHE Community of Segura in El Salvado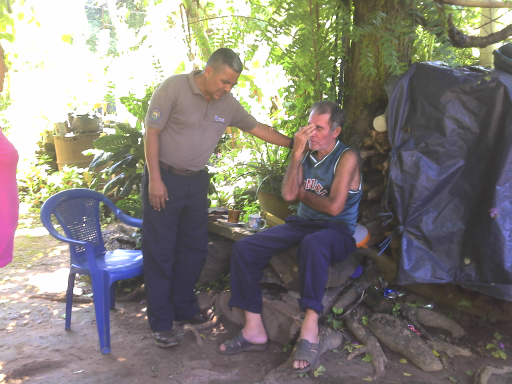 "During 2012 God gave me the opportunity to meet this group of people who are part of an organization called Global CHE Enterprises. As a leader of my community I was visited in my house and they would talk to me about God and what was the work they did.
As time went by they began the CHE Woman program so a relationship of trust began to take shape and I began to know more about God.
I have worked for the sake of my family and my community, but today at my old age I am a diabetic and hypertensive patient and I also suffer from a pulmonary disease which makes me often become admitted to the hospital.
My testimony is that in September of 2014 I was admitted to the hospital as an emergency. I lost consciousness and after a long treatment my health was not improving so the doctors decided I needed surgery.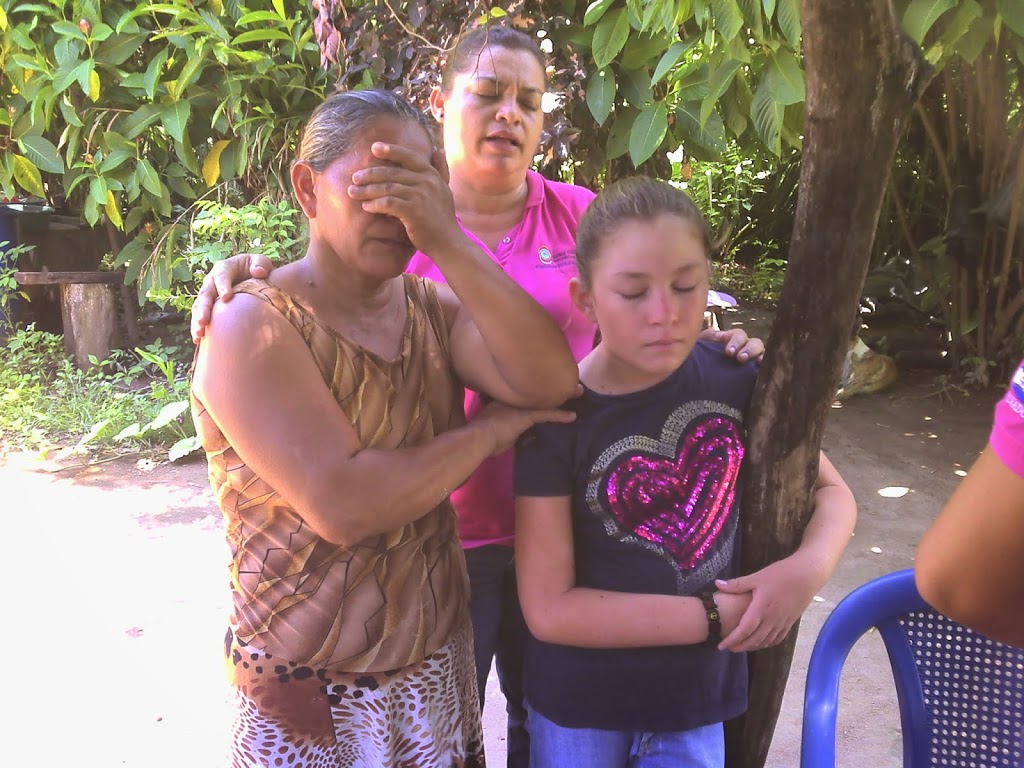 I commended my life to God. I plead to God that I did not want to go through surgery. God answered instantly by sending another doctor who said that they would not operate me. It was how I saw God's power. God answered my prayer even though I had only heard about His Power. God did the miracle and they send me back to my home.
Once back at my home I received the visit of the CHE Team and brother Juan Ramon. I told them what God had done in my life. He told me that I still needed to give my life to the Lord. Without hesitation I surrendered my life to the Lord along with my wife and daughter.
This is what I can share about the wonders God does and the changes that are resulting through the CHE Program. "God bless You"."
---
Honduras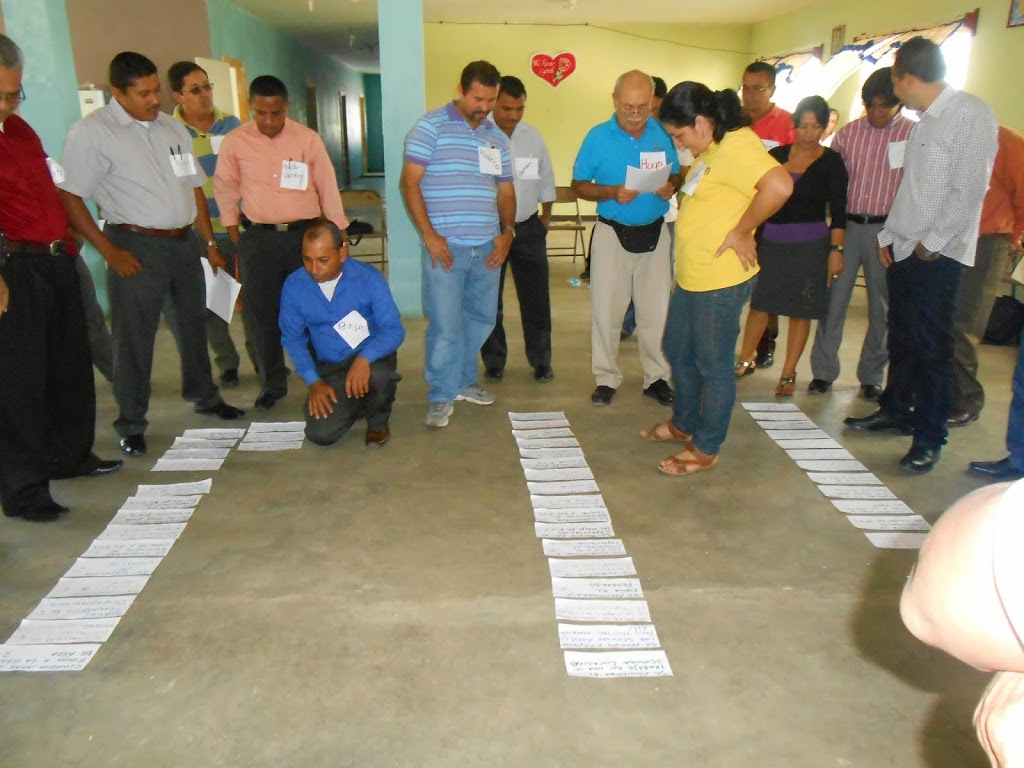 41 top national leaders of the Church of God participated in the TOT1 (Training of Trainers 1 CHE Seminar) during last first week in October in El Paraiso Copan at their facility. Upon completion their National Director Pastor Pedro expressed they are going to take the CHE training to their whole denomination in Honduras =1,200 churches! And Pastor Orestes their Central America Director of their Social Christian Ministry also said he is going to begin taking CHE to the rest of countries of their denomination in his area.
Praises to the Lord! The potential for expansion of CHE in this part of the Kingdom is exponential. Pray with us please!. The CHE model projects which Area Coordinator Adolfo Leon and Team of Trainers  have worked with have bear this type of fruit. They need our encouragement and support for the big task ahead.
---
Missionaries across Latin America

It was a privilege for Dr Hugo and Miriam to be by Dr. Bibiana Pinto Mcleod (Medical Ambassadors Regional Coordinator for the Caribbean and South America) to share a TOT 1 seminar to 22 missionaries from the UPCUSA deployed throughout the continent. It happened during the  last second week in October in  El Salvador. One more need for prayer. May they reach their areas implementing wholistic outreach with the CHE tools from now on.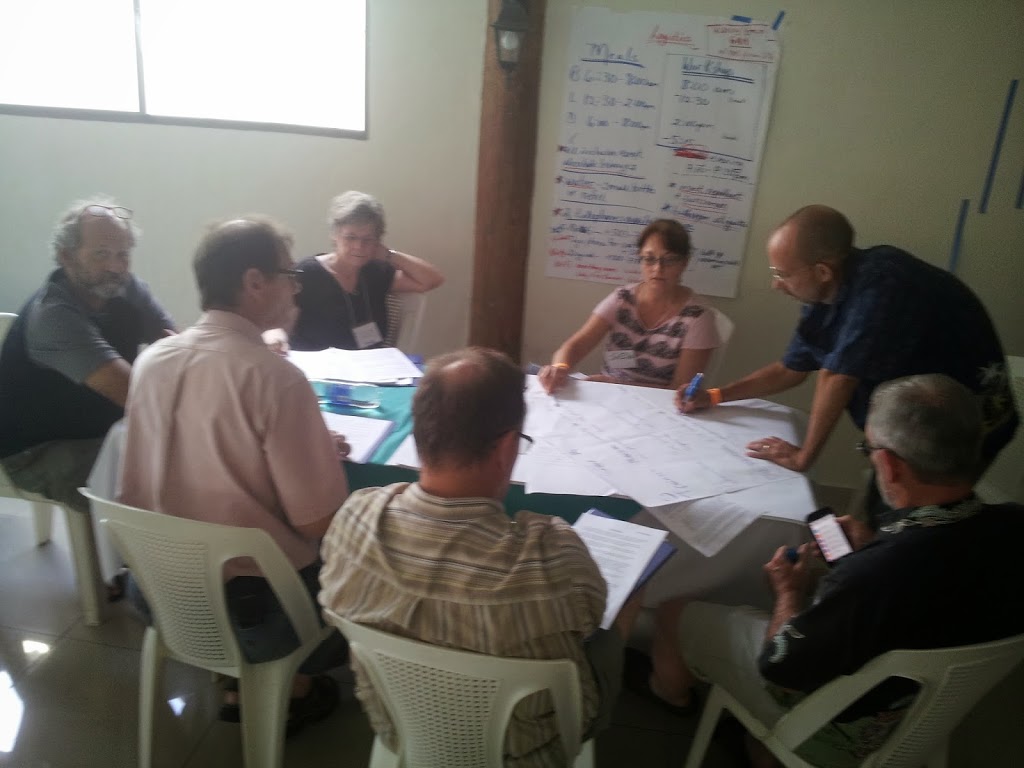 ---
Christian Veterinary Mission/Mission Community Church (Gilbert AZ)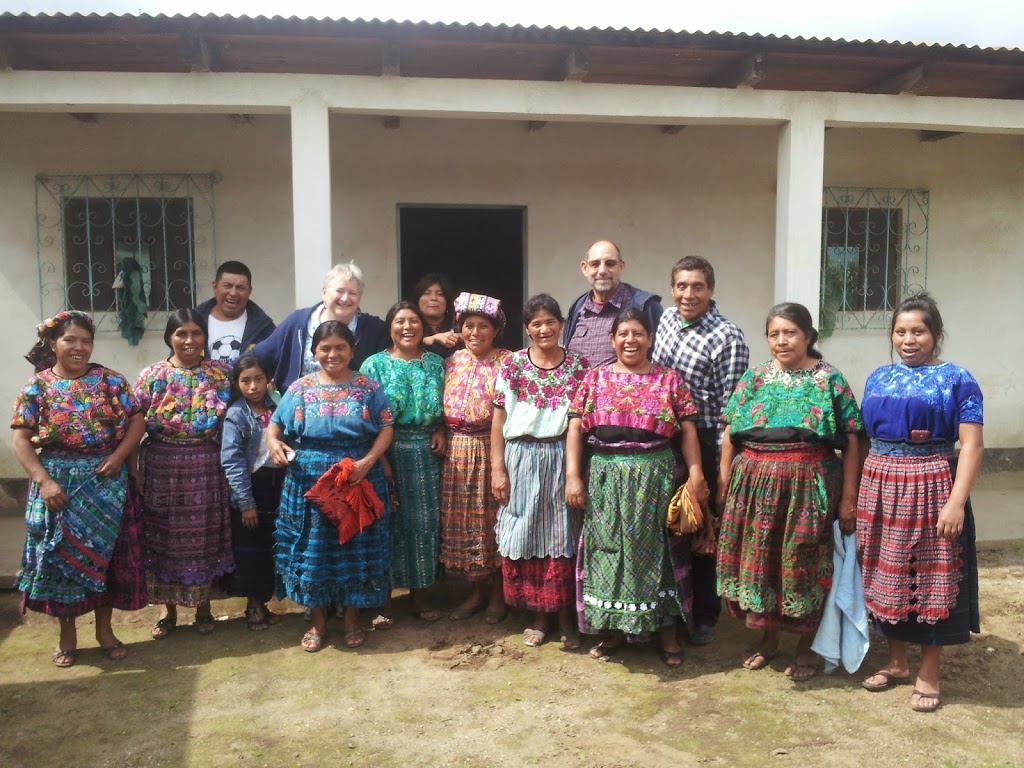 Guatemala's CHE communities were blessed again to welcome and host Dr. Tom and Diane Schiefer  during the last 2 weeks of October. They came to evaluate the poultry projects mainly and to assess how ready villagers are to work the pig projects also. It was encouraging to read their report  including the spiritual fruit and the productivity gained which is becoming sustainable for mid term and prayerfully for long lasting impact.
The Schiefers  will be returning in May 2015 with a Veterinary team to work more villages alongside the CHE trainers.
---
Women's Team from Mission Community Church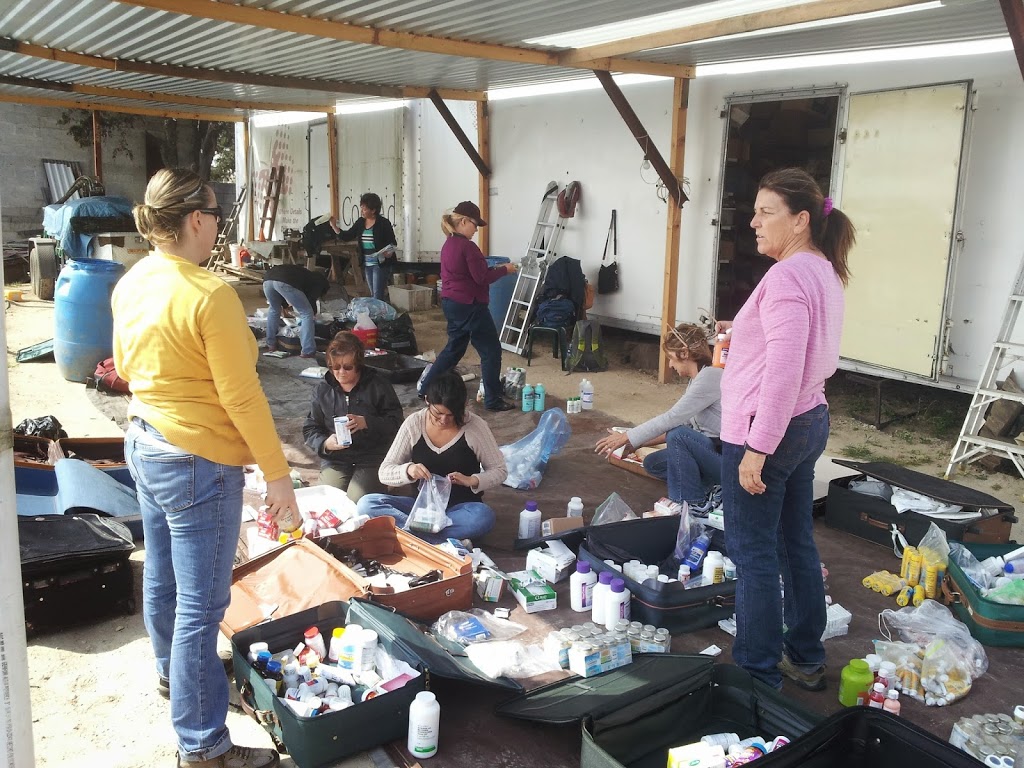 During  November 8-16 the Women's team from Mission Community Church returned to serve in Guatemala. This time they began working with the CHE Women at Chanxenel among the Mam people. During 2 and half days there were road blockages by political protests which did not let travel. The team helped us at our office instead. These lady servants humbly put their hands at work organizing our medications storage. Fellowship in the Spirit could not be missing! Our prayers for their return in a year!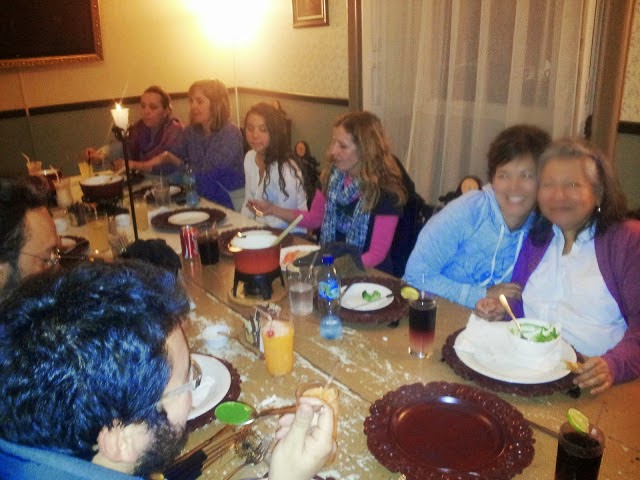 ---
Face to Face International
Dr. Don Orvis, Face to Face Int. continue to bless GCE and our CHE Mesoamerica Region by introducing this ministry to new partners. This time Harvest Bible Chapel, Chandler AZ was represented by our dear brothers Elias and Adam who came with Don last November to explore for STM trips to help our CHE Teams. They have confirmed recently that they will be coming in April.
---
Littleton Bible Chapel and Deer Creek Church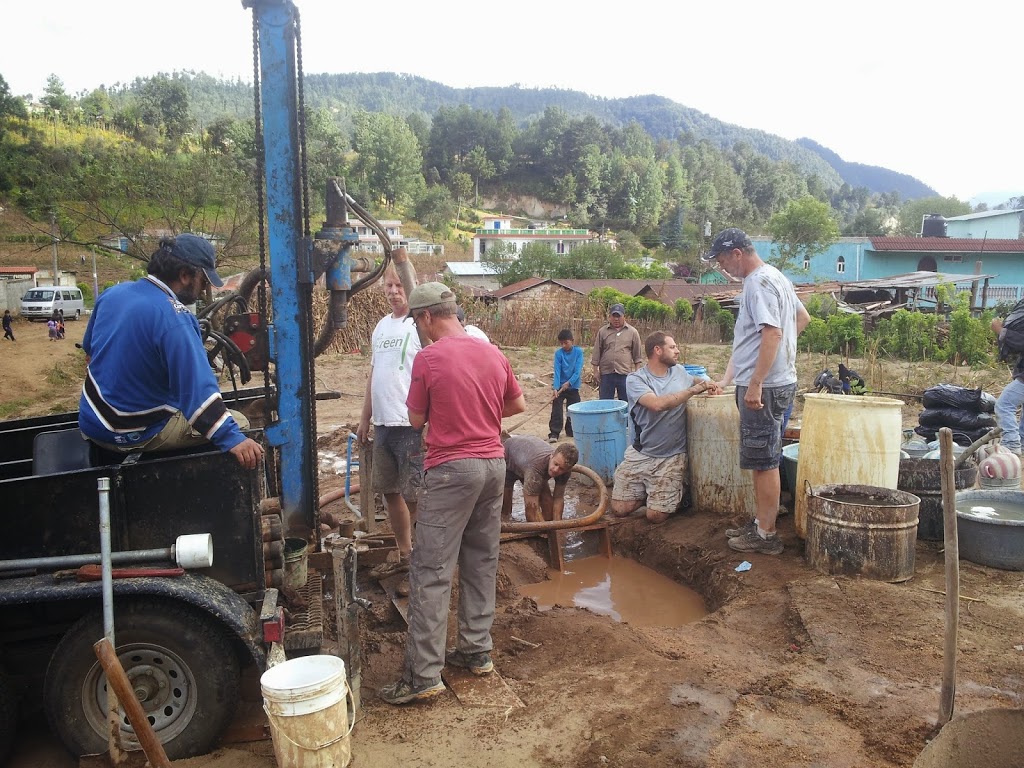 The water teams from Littleton Bible Chapel and Deer Creek Church from Colorado were back in Guatemala for 2 weeks. Led by our brothers Mike & Christina and Kirk & Gloria Douglas they were able to help our local teams in Honduras and Guatemala. 2 well drillings, 2 pumping stations installed, one repaired, and the first 2 A frames at the CHE Center were raised! The children at these villages were also ministered to, Praises to the Lord!
---
Drops of Grace
The Lord allowed our partner Drops of Grace from Texas to come and work the first Water Well project at the CHE village of San Buenaventura, Boaco, Nicaragua. 60 families for a total 360 people now enjoy safe water supply. Our local CHE FIEMCA team began receiving training to work the new rig donated by DoG. As the project became complicated by hitting tough granite layer our DoG team (Brent, Bill and Aaron) returned to Texas as scheduled. Hugo Jr and local teams plus villagers completed the project only after three weeks.
The Lord making a difference for all those lives at the village, using CHE ministry!
---
A 5 year partnership with 1Mission/GCE/CHE FIEMCA
The partnership 1Mission/GCE/CHE FIEMCA in Nicaragua have bear 5 homes so far.
Here the blessed family and the happy and thankful CHEwomen at the village of El Limonal during the dedication service. Once again we ask you to join in praising God for the Work of His Hands through you and GCE across the Mesoamerica Region. We prayerfully count on you for 2015!
RiCHEst  Blessings to you!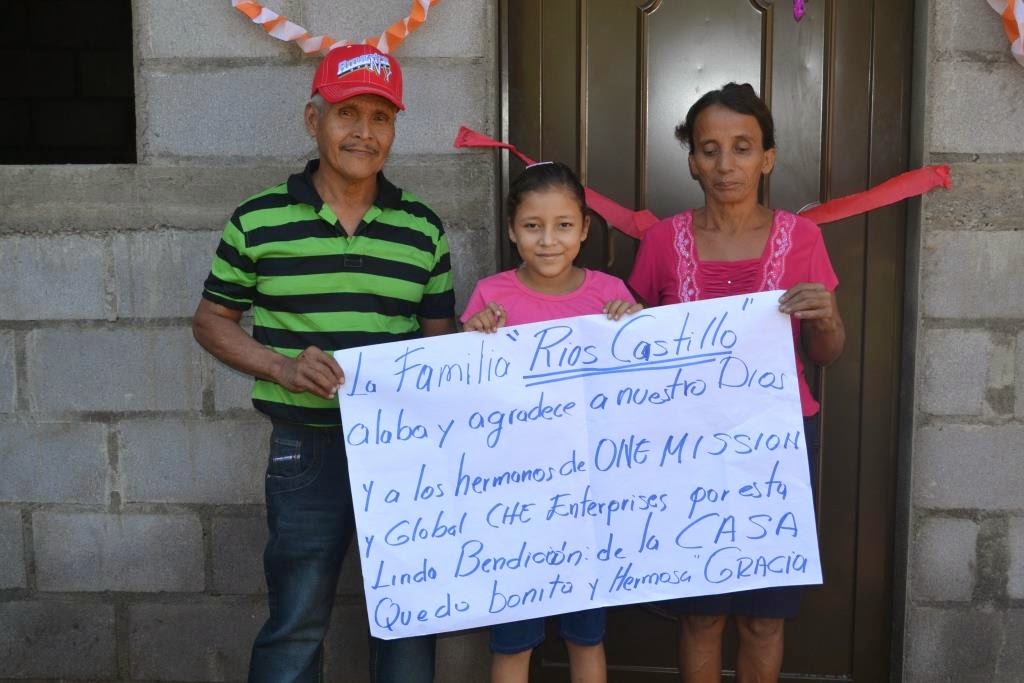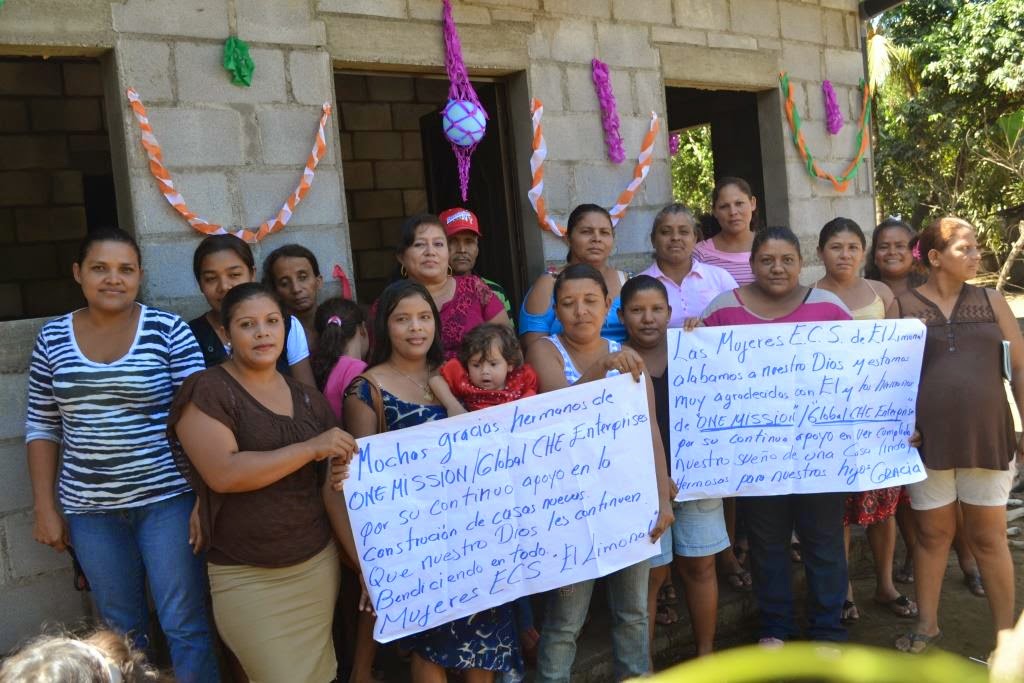 On behalf of the GCE Board and Regional teams.
Hugo and Miriam Gomez