So far into 2016!
"The Lord God helped us until now!"  1 Samuel 7:12.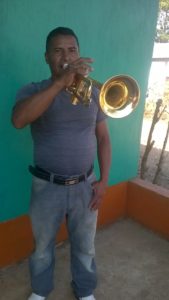 Let us begin by introducing Eleodoro Mendez. He used to be a violent drunkard abusive to his wife Braulia Lopez beating her every day he was drunk. He was an atheist. The Lord Jesus reached Eleodoro through the Community Health Evangelists at the village of Monrovia 4 years ago. Eleodoro surrendered his life to Jesus and now he is enjoying a transformed and abundant life in Christ with his family. The villagers have seen the process to even become part of the worship ministry in church now plus a CHE Committee member for the community of Monrovia. Praise God with us for this is only one of the many harvested lives for God´s Kingdom through CHE. Felipe, our Mam team coordinator shared it with all of us!.
Last January the GCE Board of Directors held the annual meeting in person in Gilbert AZ. Among the several accomplishments two new Board Members were officially welcomed. Greg Bouchard from Texas and Rich Crislip from Arizona. Also the new Global CHE Enterprises Vision and Mission Statements are now:
Vision:
Meso-American communities wholistically transformed by the Gospel.
Mission:
We train leaders to implement Community Health Evangelism so they can facilitate wholistic development in impoverished communities in Meso-America and around the world.
Our praises to the Lord for our Board Members past and present who are humble servant leaders inspiring all of us on the field.
Then Lona Hanson R.N and GCE Board Member along with Dr. Lisa Roberts returned to Guatemala in January with the Divine assignment to continue the training of CHE Midwives.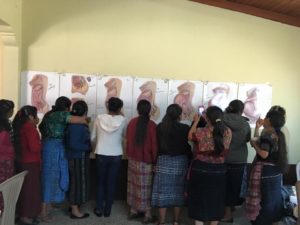 They came for 2 weeks from the Mam, the Quiche, El Salvador and Mexico! Eager to learn to better serve their communties in Jesus Name!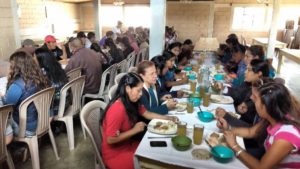 ….to share and have fellowship with each other!….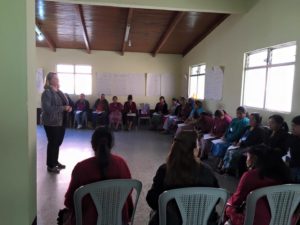 ….and to be commissioned by His authority and power!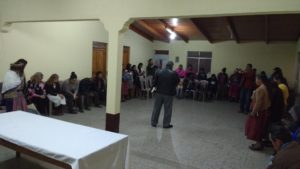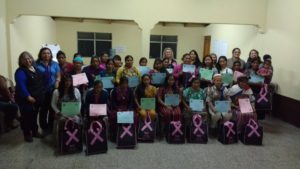 Once more we express our gratitude for everyone involved in praying, giving and sending our beloved CHE midwifery trainers!
Mexico Area Coordinator Jacob Sotelo is also sharing with us about the TOT seminars in Oaxaca and Puebla.
In March we hosted again the Mission Team from the AMSA Chapter at Baylor University Waco Texas who served 2 villages along the Quiche CHE Trainers. Wonderful youth and physicians putting their gifts at service!. Come back as often as you can AMSA!.
Mission Community Church Gilbert AZ joined the villagers at Monte Cristo to complete the floor project at local CHE involved Church. Led by Board member Rich Crislip they accomplished the task.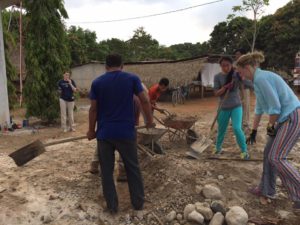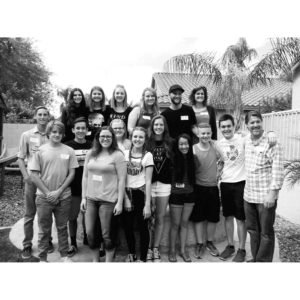 …then joined the local CHE Women making tortillas..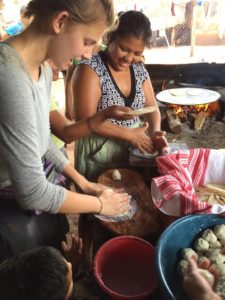 In March also, Adolfo Leon AC and team in Honduras hosted the Youth Team from First Methodist Church in Round Rock TX who were busy completing the children´s classroom in the local church.
The CHE Women at the village El Limonal were officially given the Mason Assistant Certificate by the National Institute of Technology of Nicaragua as they have already completed building 11 houses. The blessed 1Mission & GCE partnership is also bearing this fruit. Roger Pavon A.C. has done excellent mentorship there.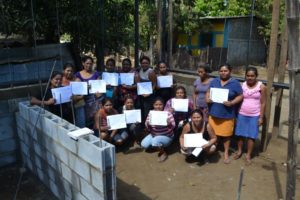 Santiago trainer on the Mam Team shared this picture about Water need being solved, to see the villagers humbly give thanks and praise to the Lord is already a matter of adoration.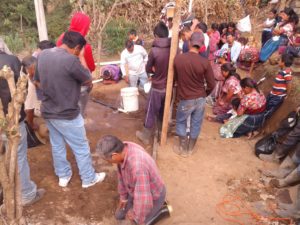 The CHE team in Honduras completing the new roof for an elderly couple. AC Adolfo Leon shared this testimony.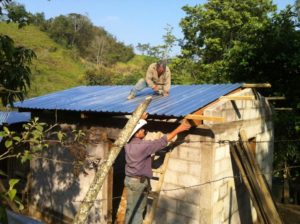 Palm Valley Church AZ came in April to the CHE village of Tercera Calle and work shoulder to shoulder with the local congregation and CHEs.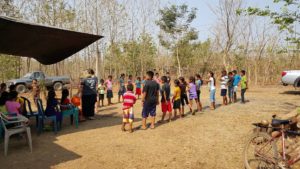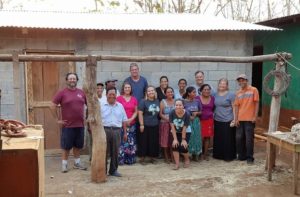 After ministering to children and completing the new roof, doors and windows on the pastoral house plus the medical clinic both local and visitors share smiles of satisfaction.
All of the females actively involved in CHE Women in El Salvador happily hosted the Team from Pure Heart Christian Fellowship last April also.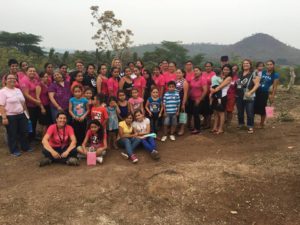 Learning more from each other the local CHE Women posed sharing their joy with us to celebrate in Jesus.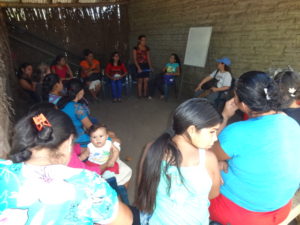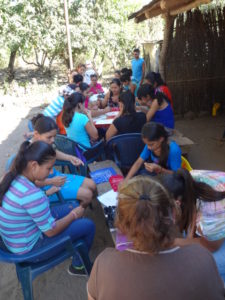 Younger ladies and girls have become very involved with WCL training also.
Two TOT1 seminars happened in March and April in our Mesoamerica Region. First one was in Panama for the partnership of Nueva Antioquia Church + Victory Faith WA + GCE.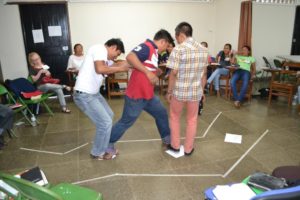 The Kuna community of Loma Coba saw 16 professions of faith in Christ during the witnessing with the CHE Picture booklet.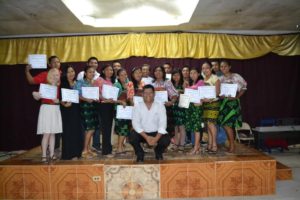 And in Guatemala it was among the Kekchi people of the Chisec Area. God has opened the door for CHE to this people group after two attempts 20 and 10 years ago now through the Compassion Ministries of the Church of the Nazarene leaders Dr. Helmer Juarez and 30 more pastors and leaders.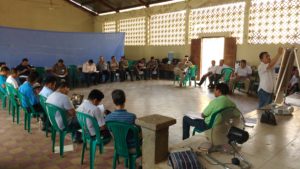 Soon after Hugo Jr and Sr travelled to Phoenix for the IWMC and during the preconference with the Global CHE Network GCN….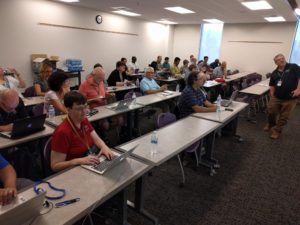 ..the Representative Council first Board was elected as follows: Dayo Obaweya from West Africa with Medical Ambassadors as Chairman, Keith Holloway from USA with World Challenge as Secretary and Hugo Gomez GCE to serve as Vice-Chairman and collaborate more closely with Terry Dalrymple the GCN International Coordinator.. They shall serve for 3 years. Pray for all of us.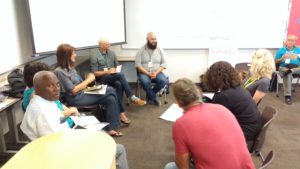 Dr. Hugo and Jr. were assigned the Workshop "Avoiding Divorce between the Great Commision and the Great Commandment in Wholistic Health Care"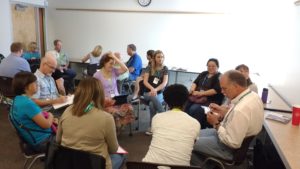 Then 3 generations of CHE implementers appear on the picture taken during the IWMC conference….with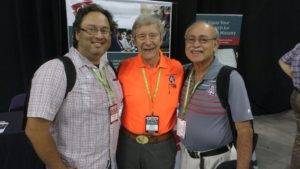 ….Stan Rowland the founder of CHE, Hugo Sr. 2nd generation trained by Stan and 3rd Generation Hugo Jr trained by our Area Coordinators in Mesoamerica Region and Hugo Sr.  through TOTs and the Internship Training of 2011.
And just 1 week ago Hugo Sr and Miriam returned from the Int Council of Medical Ambassadors Int in Mount Hermon California. MAI continues to take us/GCE as part of their family. Hugo was assigned the topic of Short Term Missions and led the session on "The Outcome of STM is determined by Motivations and Expectations" (not by how much resources you bring).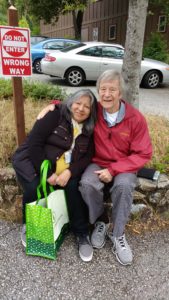 Miriam would not miss the opportunity to also be in a picture with Our CHE Mentor Stan! at the MAI Int Council Meeting in Mount Hermon.
We have not enough words to express our praises to God and our gratitude to you for your constant prayer, giving and sharing with others about this ministry.
On behalf of the GCE Board of Directors and the field CHE Staff,
Hugo and Miriam Gomez.
May 31, 2016.