July 2016 Update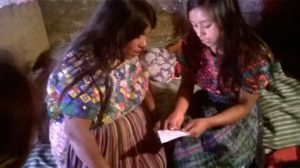 The Core of all CHE Interventions!. Witnessing person to person! In their own context! By and with their own! CHE volunteers in their own village and neighborhoods.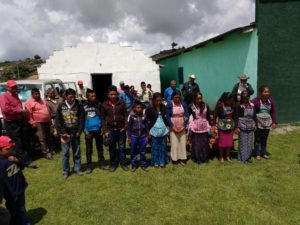 The outcome can not be any different! Harvest! Fruit! Here some of the new believers resulting from the Community Health Evangelists at the CHE village of Vista Hermosa as they were reached and led to Jesus just within the last quarter. Praise the Lord with us!.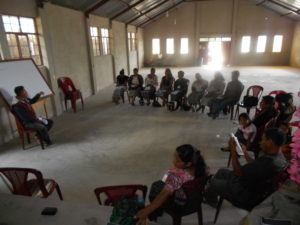 But it all starts with obeying the Great Commission.."Go and make disciples….baptizing…."teaching them" Yes….CHE Trains following Jesus methodology as in Matthew 9:35…."Teaching, Preaching and Healing" We train discipling others…then preach…then work on their health and the Lord heals them.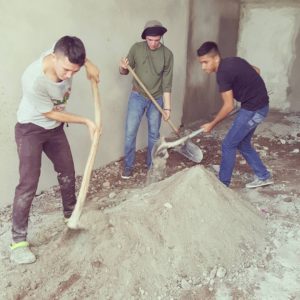 Added blessings come to the CHE villages according to Matthew 6:33 when missionaries like the Youth Team from First United Methodist Church of Round Rock Texas come to join the locals on their project for new classroom for Sunday Bible School (last March in Honduras). Diane Bouchard also from Drops of Grace led this team. Greg Bouchard is on the GCE Board.
Or when the MOTT/Men's team from Calvary Church Iowa came to give thrust to the local CHE planted church in Los Alonzo (last April)! Jim Mott is a member of our GCE Board.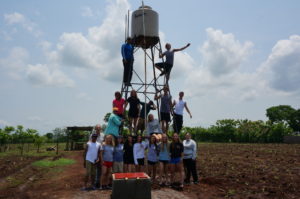 Or when the youth mission team from Littleton Bible Chapel came to La Verde to install the water tower and water storage for the well drilled last December. Mike Douglas, GCE Board Chairman and wife Christina lead this team the first week of June.
Training is the key!. Here Jacob & Raquel Sotelo share about the TOT1 for a team in Puebla Mexico last June.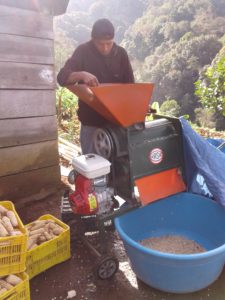 Training also blesses people to learn to make their own animal feed. Here a CHE volunteer operates the corn sheller.
Because of the CHE Training even children work for their own community water project! They understand that clean water provision is determinant on their health!.
CHE Woman (Women´s Cycle of Life) does teach local ladies on crafts for Micro Enterprising. For example these hand made scarfs can be sold at the nearer open market day at larger closest town or city and help in their family support!.
The seed pigs distribution from those originally grown by CHE Training Teams continues steadily multiplying reaching scores of families by now. We acknowledge Mission Community Church Gilbert AZ for their investment on this productivity process ….CHE!
Another testimony also, like in June when the Bay Presbyterian Church from Ohio Medical team & Living Water for the World team came to help with our Medical Clinics and Water Purification and Bottling Laboratory Installation at the trained CHE village of Chirramos, specifically at the CHE planted church grounds flooded by the storm during the dedication service that last afternoon! Abundance of water prophesied!.
Also a CHE outcome. The mission team from Focused Living Ministries, Camden, S.C.  saw more than 60 children praying to receive Jesus at the Public School, shared with the people who still need the Physical and the Spiritual water, helped us during our medical clinic and went back to their homes expressing their purpose to return in a year!
CHE outcome…..Our partner 1Mission-Phoenix joining the CHE Village El Limonal in Nicaragua to help the local CHE Women build home #12. This community experiencing wholistic Transfomation & Development is becoming a light house in the area. 1Mission´s investment multiplied in God´s Kingdom math.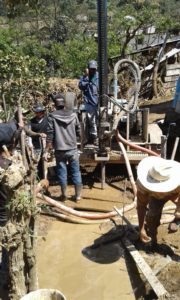 More water provision through CHE, one by one village, slowly,  limitations are only seen as faith challenges.
More CHE testimony to people (Micah is missing in picture). Bethany Bible Church Phoenix mission team got very busy during our medical clinics and outreach on the Cuchumatanes range of Mountains this July.
Just this last week of July our GCE Mesoamerica Region held the Micro-enterprises & Disabilities CHE Training to some of our leaders from Nicaragua, Honduras, Guatemala and El Salvador there in Tacuba El Salvador.  Marcelo & Silvia Lopez from Medical Ambassadors Int. Argentina travelled here to train all of us. We praise God for you faithful supporters who sponsored 8 scholarships to help make this possible in God´s Provision. You can be very sure this training will be multiplied as The Light and Truth is multiplied through Community Health Evangelism.
Miriam and the Gomez Family also thank the many of you who heard about Mario (Miriam´s Dad) who was called to the Eternal Dwelling in God´s Kingdom only last Thursday. All your expressions of love and encouragement fulfilled the family hearts.