Teaching, Preaching and Healing in Autumn
A biologist and educator by training, David Werner wrote in his book Where There is No Doctor: "The Art of Teaching is the most important skill a person can learn. To teach is to help others grow, and to grow with them. A  good teacher is not someone who puts ideas into other people's heads; he or she is someone who helps others build on their own ideas, to make new discoveries for themselves".
Alongside Teaching we can see in the bible that lack of education is a curse:
"My people are destroyed for lack of knowledge. Because you have rejected knowledge, I will also reject you, that you may be no priest to me. Because you have forgotten your God's law, I will also forget your children.'" Hosea 4:6.
Concerning Education  (The Teaching/Learning  Process), Jesus's methodology has order in it according  to Matthew 4:23 and 9:35: 1.) Teaching, 2.) Preaching, 3.) Healing.
This order is reconfirmed by Mark 6:6 when he writes
"He was amazed at their lack of faith. Then Jesus went around teaching from village to village".
The Great Commission reinforces the priority of the work plan of the Master Teacher for all of us "Go and make Disciples…baptizing them….teaching them" as an essential step.
"You will know the truth, and the truth will make you free." Jesus declared. John 8:32
That is why we, implementers of Community Health Evangelism in the Global CHE Network, have "Participatory Learning" as one of the CHE Core Values.
The LePSAS  approach to teaching/learning  encourages proven and fruitful  techniques in the non-formal, inductive, participatory, dynamic, all inclusive style. To all of us, the CHE practitioners  around the globe, "All inclusive" means Wholistic based of the Shalom of the Old Testament and  Soteria of the New Testament.
That is how in Community Health Evangelism CHE of Global CHE Enterprises we are about Education. We go through the Teaching/Learning process in the LePSAS style and we call it training to differentiate between the Formal Academic type of Education with the Non-Formal nor Academic type of Teaching/Learning at all levels.
Above, CHE with Children's Master Trainer teaching CHE children in their own context, in Nicaragua. Tania trains them this early for leadership also. (click on the pictures for magnification if you like).
Above, El Salvador team trains elementary school level girls and teens about crafts for productivity.
Above training church leaders of a large denomination–The Church of God– in Honduras for Evangelism with the CHE Picture booklets.
Above, Jacob Sotelo, Mexico Area Coordinator with new trainees completing TOT1 in Merida Yucatan and Puebla.
Or when the Short Term Team/Association of Medical Students of America AMSA (Baylor University) were first exposed to CHE Training earlier in the year.
So, CHE Training at all levels also bear fruit at all levels. Below,  new converts among the Mam area. Pastor and CHE Mam Team leader Felipe Morales share these pictures with you all (below).
The church of Jesus Christ grows in physical, spiritual and material ways, multiform ways in His Grace. Adolfo Leon Area Coordinator  for Central America 1 shares the baptismal picture with us (Above).
The gravity fed water project was dedicated and inaugurated last August at Los Agustines of Las Barrancas in Guatemala (above).
The church facility building at Los Alonzos CHE Planted Church continues to take shape (below).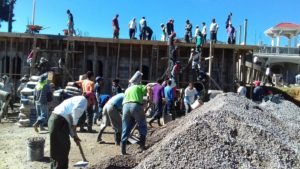 The CHE training does help villagers multiply resources and relationships! (above).
For example, in Honduras CHE training results in productivity, reconstruction and cleaning up!(Above).
CHE training produces partnerships for transformation like in Nicaragua (1Mission Phoenix, GCE and community El Limonal). From despair to hope to New Abundant Life in Christ!. (Above).
With CHE Training you can witness the process from former thirst to joyful refreshing water supply, both physical and spiritual.  Joint effort of Drops of Grace Texas, GCE, CHE FIEMCA and community El Menco Nicaragua. (above).
(Below) God used CHE Trainer Pio during 30 years among the Mam in Guatemala to minister to countless people in Jesus's example and methodology until called home in August.  His memory was honored by countless people who attended his funeral.
Above, Gabriel Gomez and Hugo Gomez Jr with Pio about 10 years ago. The City Hall officially honored Pio post-morten with the Guatemalan flag. God received the Glory as we praised the Lord for Pio's life.
Always thankful here for your prayers, partnership, support and testimonies about Global CHE Enterprises. All of us in the Board of Directors, Mesoamerica Field staff and CHE volunteers can not express enough gratitude but we praise the Lord for you all.
Hugo and Miriam Gomez.
October 2016