"Wise men from the east"….. "came into the house and saw the young child with Mary, his mother, and they fell down and worshiped him. Opening their treasures, they offered to him gifts: gold, frankincense, and myrrh.
– Matthew 2:1, 11
As we celebrate Jesus the Son of God for His Incarnation we (GCE and Partners) must pray that the presents we bring to Him be close to the gifts the wise men brought to Jesus. That Mercifully and Gracefully our efforts to surrender and consecrate our lives to Christ be  near to Gold. We desire and pray that the fruit of the Holy Spirit in our lives be like frankincense. We will be eternally thankful when the Lord will accept the fruit of our labor as Myrrh.
Here we share in worship and joy some of the fruit our Global CHE Enterprises fellow servants are bringing to the Lord during this season celebrating Him.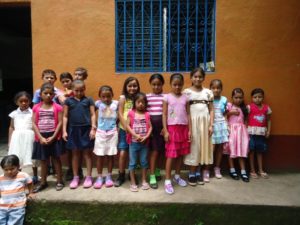 Above, Tania, Our CHE with Children Master Trainer reporting this precious group of little ones who have prayed to receive Jesus in their lives within the last quarter only in Nicaragua, Praise God with us!.
The local CHE Women (in Women Cycle of Life) in the village of  Las Marias El Salvador proudly share the work of their hands to encourage the rest of women in the village about CHE Training as wholistic as it can Biblically be. (above).
(Above) Among the Quiche ethnic group CHE villages, the local CHE volunteer teams joyfully pose for a picture with the new believers Yolanda and Ana Maria resulting from the CHE home visits in el Suj. Pray for their walk and growth in Christ.
(Below) Two of the recently TOT2 participants among the native Kuna in Panama gladly posed for a testimony of the very rich equipping received through  Area Coordinator Roger Pavon, based in Nicaragua.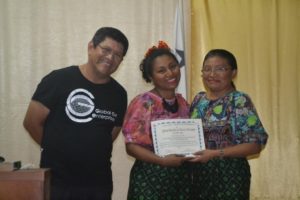 Also (below) Caleb & Eunice team coordinator with our partner CHE FIEMCA, Nicaragua, share some about the TOT1 they went to teach in La Lidia, Guapiles, Costa Rica.
10th anniversary of the blessed Water Well project at the village Buena Vista among the Mam/Guatemala. The whole community were there, non-believers as well (below).
So far into XXI Century and there are still thousands of villages without clean and accessible source of water for their daily needs.  Part of the neighborhood at Las Barrancas in the Mam speaking area used to  supply their need by hiking down to the deep canyon creek until recently. But now they are praising God for their accomplishment from their united hard work. Community Ownership is a CHE Core Value and it is truly present among them resulting from the CHE Training.
(Above), Humble worship and gratitude upon water flowing to the village near to their homes until the distribution lines will be in place. The CHE Committee keeps praying and planning toward completion of their water project.
(Below) The two Short Term Water Teams from Deer Creek Church and Littleton Bible Chapel worked 5 drillings at the villages Ojo de Agua (Mam) and Chi-Itzep (Quiche). After 4 dry holes God allowed the second village to enjoy safe and abundant water from now and on. Besides fireworks to celebrate we sang thanking the Lord and prayed all together.
…..and the children were in Vacation Bible School too! (above)….while the women (below) were been taught about Self Esteem through the Parable of the Pearl of Great Price. The local Public School Director said "I have been to many seminars and workshops but never before to one like this. When will you be back?"….she asked Chris Douglas our GCE  Board Chairman's wife.
….and one more testimony!…Only this week we are been able to continue building onto completion of the first A Frame Cabin at the CHE Property for the CHE Training Center in San Felipe Guatemala. Pray about it and the rest pending to develop this resource for the whole Mesoamerica CHE Region and beyond!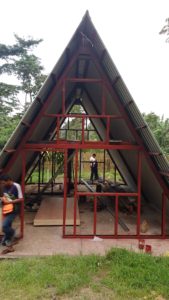 We do hope and trust Our Lord will give you His Peace and Growing Faith during Christmas as we all celebrate Him! Let His light shine through us all amid a world which perishes in darkness! May His Mercy and Grace continue to reach multitudes, one by one, families, communities and nations through CHE in His Hands!
Merry Christmas 2016.
Hugo & Miriam
on behalf of the GCE Board of Directors,
the Mesoamerica CHE Region Teams
and the Gomez Family!