God's Guiding Hand into 2017
"for by wise guidance you wage your war; and victory is in many advisors" Proverbs 24.6.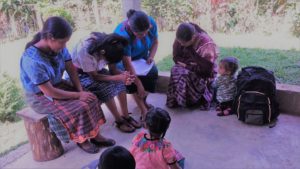 In the picture above, CHE Women are calling upon the Name of the Lord during the World Wide Day of Prayer  -WWDP Jan 18- of Medical Ambassadors Int. which GCE across the Mesoamerica Region join every year.
(Above) As we prayed for all MAI CHE people around the world they also were praying for all of us GCE in Mesoamerica. With the Prayer Guide issued by MAI and organized in small groups could not miss any praises or requests to take to the Lord. The GCE teams also prayed specifically for our partners, donors/investors, and for our leaders and mentors among the GCE Board of Directors to meet on January 28-29 beginning our 9th year of GCE Ministry!
Above, hosted by our Chairman Mike & Chris Douglas at their house in Aurora CO, we were able to welcome new Board Members Mrs. Carla Brubaker (Phoenix) and Mr. Brent Strange (Washington State) who has been our Director of Marketing for a couple years also. All of us involved in GCE as partners and on the field are so blessed to count on this Body of Committed and Wise Advisors and Stewards, Praise the Lord with us all!
(Below) Then, while still in the Denver Area, we were blessed and privileged to visit our mentors Arno & Cora Lee Enns.  Arno was our Latin America Director in MAI for about 1991-95. Hugo Jr was a teenager then.
It was with the Enns that Hugo Sr. began the traveling throughout the continent to teach CHE since 1992 for MAI.
(Below) After a year of passing, Calvary Church from Muscatine Iowa, our partner, returned in Short Term Mission. Preceded by Dr. Jeff Allgood, now a minister in his hometown in Iowa, we held a Seminar for Pastors and Leaders of Churches from CHE Villages. The Lord used Jeff to share about "Identity in the Kingdom" and "Good Communication for Conflicts Solving". Jeff then joined the Calvary Church Medical Team at the CHE Mam village of La Victoria.
Below, The Construction team joined the local CHE Church to continue the roofing and ceiling installations. The medical, Dental, Eye and Chiropractor clinic served hundreds of patients wholistically in CHE. Ministry to Children also had lots of work there!.
Above, Applying dental fluoride to the children in the village will give thrust to the Prevention component of CHE in this village.
Below, the report from Tania our Regional Master Trainer teaming with volunteer Misael (husband) show the new work with the little ones at the villages El Menco and San Marcos Rivas in Nicaragua! They are multiplying!
Below, in the same way, the Testimony sent by Felipe (Mam Coordinator) shows that CHE with Children work has begun consistently and we must all be encouraged by it!
Above, More Scholarships channeled through GCE! For some reason, God has wanted us to do this since our early years among the Mam in San Juan Ostuncalco (1980s)!!! This Year Benita Alonzo is receiving help to attend a Nurse Aid training course from the Mott family (Board Member). Benita usually brings more company who bring happiness to our place!. Our daughter Christa had given (for Christmas) Little Lissette a doll which she named "Jeanne Lissette" after our beloved Jeanne Mott!.
Below, Micaela our Quiche CHE Women Trainer comes periodically to Miriam to learn more Crafts for Micro Enterprise in order to multiply those by teaching her women among the Quiche people group, about 90 of them.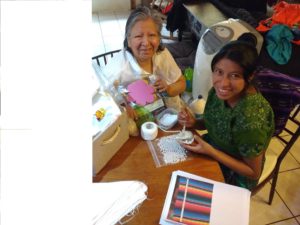 Below, now it was the turn for the CHE Village Los Marroquines to put their hands together and pour the Concrete Slab Roofing for this CHE Planted Church facility! Focused Living Ministries from S.C. have sewed this good soil!
Below, the new caretakers for the CHE Property. Leonel & Clementina started in January doing a very good job! We praise the Lord for them and their 2 children. Pray for them!.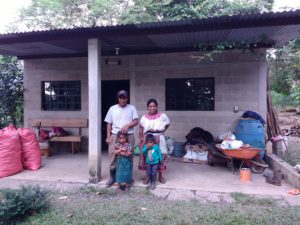 Below, We have also advanced toward completion of the very first A-Frame Cabin, pray about it, please! The very finishing is going on.
Below, God has opened the doors to another ethnic group through the Compassionate Ministries of the Church of the Nazarene in Mexico. The Nahuatl people of La Huasteca in San Luis Potosi. Their leaders are now about to confirm dates for more TOT1 training in other Areas of Mexico. Pray about it please!.
Giving all the Praise and Glory to Our Lord for each of you who are very important part of GCE in God's Multiform Grace!
On behalf of the Board of Directors, and all our fellow servants on the field.
Hugo & Miriam