Providing Urgent Relief
She said,
"As Yahweh your God lives, I don't have a cake, but a handful of meal in the jar, and a little oil in the jar. Behold, I am gathering two sticks, that I may go in and bake it for me and my son, that we may eat it, and die."

1st Kings 17:12
But in this case, at one of our CHE Villages on the Cuchumatanes Mountains of West Guatemala, this lady had collected plenty of firewood but her family's provisions of groceries had depleted long ago after 60 plus days with the husband been unable to receive a minimum daily wage –if legally paid– resulting from the mobilization restrictions and curfew imposed by our government to fight the Pandemic.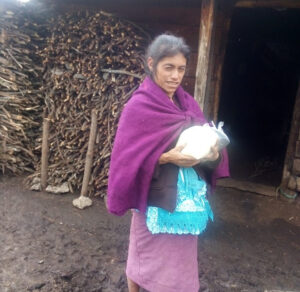 Her case is only one plus 96 more families reported by our teams of CHE trainers. These 97 families had already began suffering from hunger on the way to starvation. So we decided to take action and purchased ¼ of a ton of each, Rice and Beans.
Rice and beans cooked together will provide much more and better quality of amino acids than those separated or only corn (Guatemalan's staple food). So we are trying to teach this fact to educate amid the emergency.
This is urgent relief but we are aware that they may need more help pretty soon, the small provision 5 pounds of each will not last too long. You do not even want to wonder how many more families are and will be in desperate need in the coming weeks and months!
"We've heard from men and women in low-income countries that their primary concern right now is not fear of the virus; it's fear of starvation." ….."As we rally and dispense desperately needed relief, the challenge is to respond to immediate needs while simultaneously preparing for the recovery and rebuilding. It's a time to navigate the delicate relationship between relief and development, not as two separate activities but as one unified and long-term response"

Christianity Today
"As we think about what we can do after COVID-19 is finished, there will be a huge emphasis on helping people re-establish businesses and recreate livelihoods. The more we can do in advance to plan for such things as firing up and rejuvenating micro-enterprises will help us get ahead of the curve and better serve those communities where we have folks working"

Terry Dalrymple, Global CHE Network Coordinator.
The team of trainers among the Quiche people have shared the following pictures as testimony of their effort to reach the hungry 67 CHE families. But the Mam have not yet been able to reach the Village of Las Barrancas for the 30 hungry families due to the road closed by the civil authorities.
They will only be allowed to drive their truck this Thursday all the way to the village.
Pray with us that we will be guided and provided to help in the CHE way onto salvation, nourishment and development of our needy people. Of course, as always your financial aid will continue to help those in need and growing strong with CHE.
Hugo Gomez
June 1, 2020.