Testimony of Transformation
At the village of Nueva Armenia in Honduras, there is Mrs. Denia Chacon, a single mother of 8 kids, from different fathers! She used to live a very disorderly life style away from God and under extreme poverty. After several visits (by the local CHE Volunteers) to her home she decided to turn her life at the feet of the Lord receiving Jesus as her Savior and turned around 180 degrees since the beginning of 2020. She is not only following Jesus now but is also a member of a CHE Christian Growth Group in her village. Denia has also gotten involved in her community and church activities.
(Testimony shared by Adolfo Leon, Area and Team Coordinator Honduras.)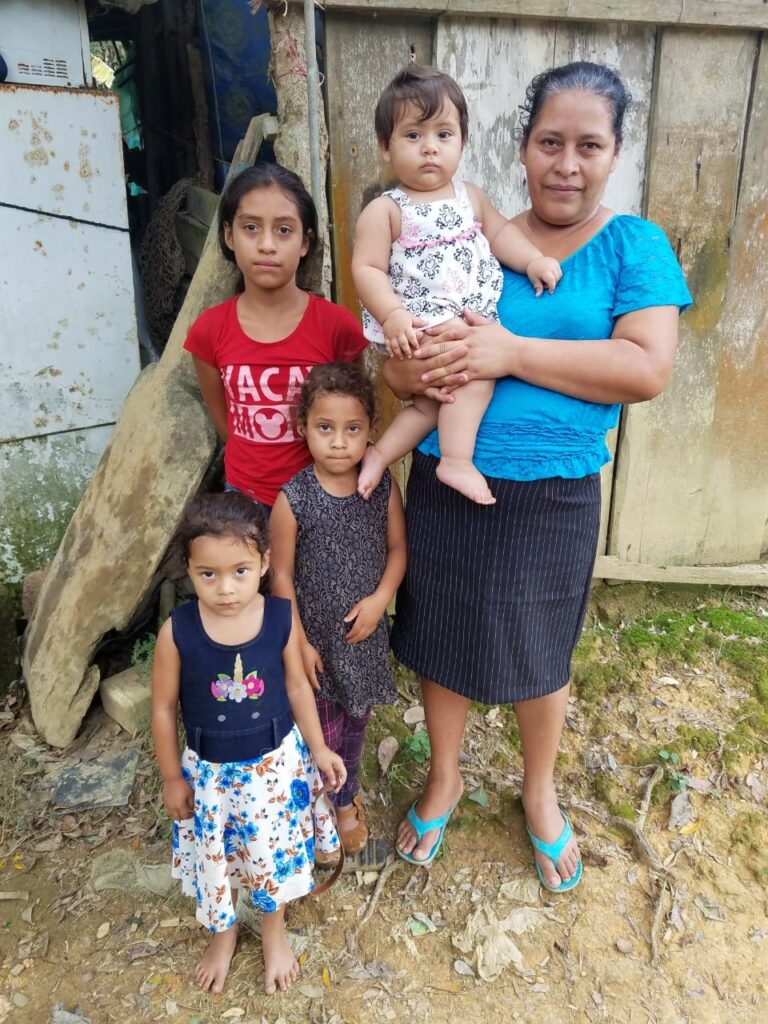 Relief in CHE, through GCE
Yes, even we have been known for decades to preach we rather avoid Relief interventions in CHE, we have also learned that even for Development and Transformation work in the Kingdom of God there are times when it is not an option, that assistance is a must.
We can still do relief work due to the need, due to the circumstances in this case of the Pandemic due to hunger already present among several of the CHE Communities in Mesoamerica, mainly because of lack of jobs and income resulting from the restrictions imposed by the governments to avoid more COVID-19 spread.
We have also learned that you can still do Urgent Relief work without worsening dependency which will only increase the Cycle of Poverty!
How can we avoid doing more harm than good?…with our "Triple T approach to free handouts":
T…..Treat
T….Test
T…Teach
Treat
We can treat hungry people to some groceries that will last 10 to 14 days! Hoping that in the meanwhile they could get some income amid the Pandemic Restrictions.
Test
We can test their awareness about the reality of Dependency compared to Development and about the Cycle of Poverty compared to Transformation.
Remember the testimonial pics of the CHE village of Capilla on our June News? Just two months later this is their testimony:
Teach
We can teach/learn together about the "3×3- Three Food Groups Three times a day", about the importance of producing their own food, along with the need of the ingredients of Christian Growth: prayer, Bible Study, Witnessing, serving others!….like our CHE trainers teaching women how to make their own masks due to the lack of those in isolated villages.
"Why should we die before your eyes, both we and our land? Buy us and our land for bread, and we and our land will be servants to Pharaoh. Give us seed, that we may live, and not die, and that the land won't be desolate."

Genesis 47
The difference here is the CHE Villages will not be servants to Pharaoh, but will be freed to serve the Lord, we are going to distribute more seeds.
"Then Joseph said to the people, "Behold, I have bought you and your land today for Pharaoh. Behold, here is seed for you, and you shall sow the land. It will happen at the harvests, that you shall give a fifth to Pharaoh, and four parts will be your own, for seed of the field, for your food, for them of your households, and for food for your little ones."

Genesis 47
…again, the big difference is the CHE villagers will not belong to Pharaoh plus they will be able to share with those who will suffer as they have before.
Pray with us that we may continue to be good stewards of the resources been entrusted to us to assist hungry people during the Pandemic restrictions among our countries in Mesoamerica.
Our praises to God and our gratitude for those of you partners that already going the Extra Miles!!! by sending your resources for us to distribute among the already hungry people! If you are led, your financial aid helps to make this kind of development happen. Help continue the work of Global CHE through the donate button below.
August 2020.
Hugo Gomez, on behalf of us all in GCE.